REBLE610-M
XPIC IP-SDH Microwave Link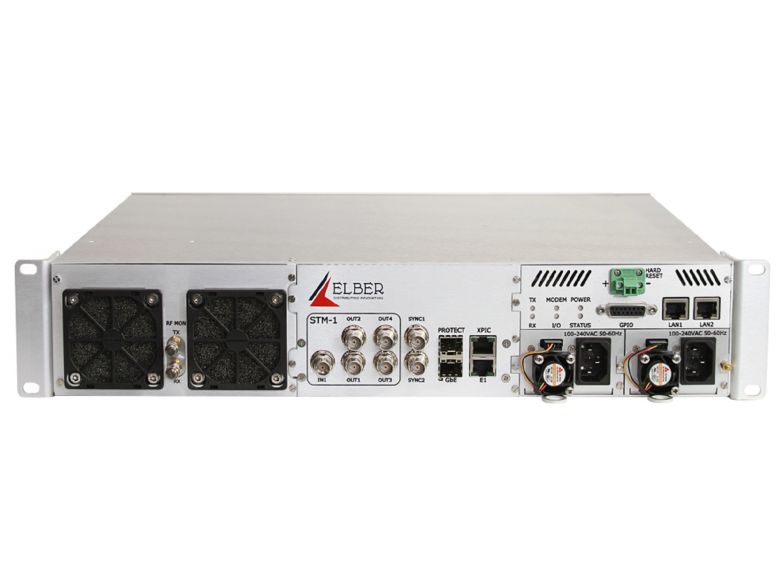 Available download(s) (1) :
Data Sheet



REBLE610-M
[ ~ 169.12 KB - MD5: ]
General overview
The REBLE610-M features an accurate hardware design, absence of internal cabling and full modularity. The unit is composed by a 2RU basic chassis with extractable modules, which makes ventilation, maintenance and critical operations, like frequency modification, easy and efficient.
The REBLE610-M contains two hot swappable power supplies (both AC and DC versions are available). The modular approach has brought to the development of the digital processing module (containing modulator, demodulator and data interface) and the RF module (containing Transmitter, Receiver and channel filters).
It is oriented to telco and new generation broadcasting networks, offering both SDH and IP interfaces. Several innovations on the digital inputs side with 1 STM-1 input port, 4 STM-1 output ports, SYNC1 and SYNC2 in/out ports for reference signals. It also provides a GbE port for IP traffic and a 2048 Kbit/s E1 data channel.
Using the XPIC port (and an extra RELBE610-M) it is possible to duplicate the bitrate, exploiting H and V polarizations and cancelling undesired content using special algorithms.
Redundant configurations (SD and FD) are supported, as well as HSB.
A new management software offers complete control over device parameters and settings. The same monitoring and control can be carried out through a particularly easy to use web interface and SNMP.
Main features
Half-duplex, Full-duplex or Repeater
Direct frequency conversion (Zero-IF)
Excellent System Gain performances
I/O:

1x STM-1 In
4x STM-1 Out
1x GbE
1x E1

XPIC capability
Reference Sync1 and Sync2 in/out
Bandwidth: 1.75÷56 MHz
Integrated hitless switch for 1+1configuration (HSB,SD,FD)
Redundant hot-swappable power supply(AC and/or DC)
WEB interface, SNMP and GPIO
---
Disclaimer: all files have been scanned for viruses prior to uploading them to this server.
MD5 hash check: to check the integrity of the above files You might consider using this Third Party freeware softwares:
OS: Win* | Software/utility: HashOnClick
OS: *nix | Software/utility: open a terminal and type md5sum file_name.extension
OS: Mac OS X | Software/utility: open a terminal and type md5 file_name.extension