CPM
Portable Microwave Link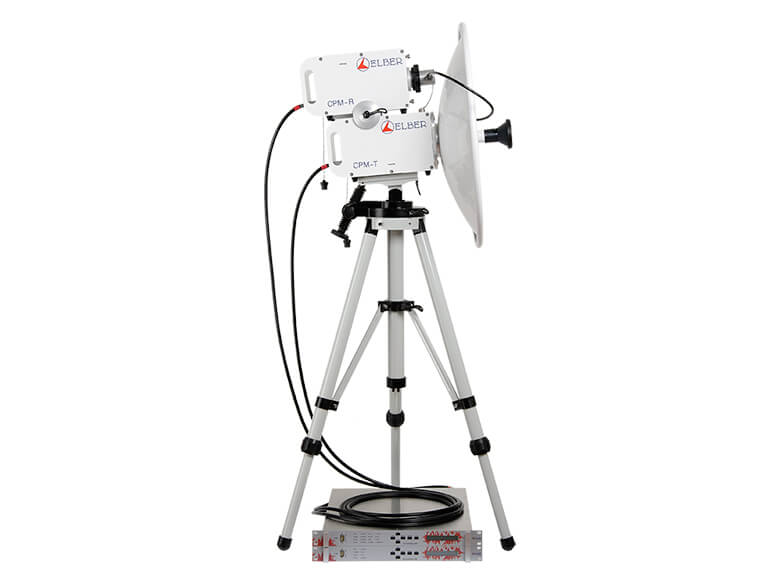 General overview
CPM is the portable multi-channel microwave radio system, the working frequency can be any 500 MHz band between 2 GHz and 15 GHz and the modulation can be either analogue (FM) or digital (COFDM). An external IF input for different or back-up signals is also available. These features makes the CPM the ideal equipment for fast and reliable mobile links, even in hard weather conditions. The COFDM section includes a SD 4:2:0/4:2:2 encoder with a low delay mode of less than 95 ms. In addition, an FM modulator and demodulator realised with Software Radio Technique are provided. The output power, depending on the frequency band, can be 1 W, 2 W or 4 W. The system can be composed of indoor and outdoor units or outdoor units only. The outdoor equipment is composed of a Tripod complete with Panoramic Head, Base Plate, Orthomode Transducer, Parabolic Dish complete with feeder and one or two RF Heads. The outdoor control units have the same dimensions of the RF heads and can be placed under the equipment, connected through a RG-216 cable. The indoor control units are 1U 19" standard rack and can be lodged in a van. The weatherproof RF heads that can be installed on the base plate can be (depending on the application) single Transmitting or Receiving Head (Simplex), two Transmitting or two Receiving Heads (Double Simplex) or a Transmitting and a Receiving Head (Duplex).
Main features
Simplex, Double Simplex or Duplex Configuration
Analogue and Digital

COFDM 2k/8k
FM
External IF

Standard COFDM Transmission (QPSK, 16-QAM, 64-QAM)
Frequency Band 2 ÷ 15 GHz
Up to 500 MHz frequency agile (step size to be established with the user)
Very Low phase noise
Power Output:

CPM/T/02 +36 dBm ±1 dB
CPM/T/02 +36 dBm ±1 dB
CPM/T/07 +33 dBm ±1 dB
CPM/T/10 +30 dBm ±1 dB
CPM/T/14 +30 dBm ±1 dB

SD-MPEG-II 4:2:2/4:2:0 integrated encoder
Video inputs: composite or component video, SDI, DVB-ASI
Audio Inputs: 2 channels analogue, 2 channels AES3 or SDI embd.
Weatherproof RF Heads
Carrying case
RS232, RS485 and SNMP remote control interfaces
---
Disclaimer: all files have been scanned for viruses prior to uploading them to this server.
MD5 hash check: to check the integrity of the above files You might consider using this Third Party freeware softwares:
OS: Win* | Software/utility: HashOnClick
OS: *nix | Software/utility: open a terminal and type md5sum file_name.extension
OS: Mac OS X | Software/utility: open a terminal and type md5 file_name.extension